Chicken with Spicy Lentils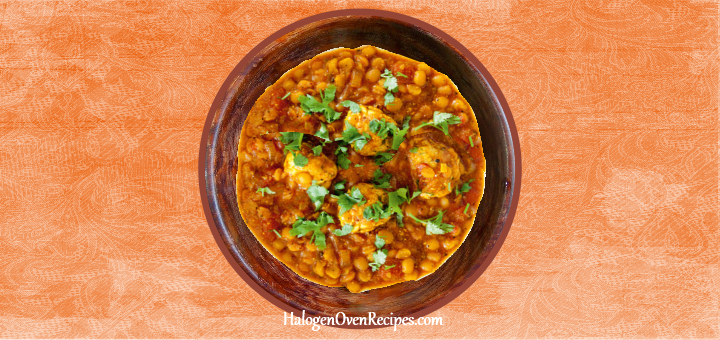 Chicken with Spicy Lentils
Serves 4
Prep time 20 mins
Cook time 50 mins
Ingredients:
8 large skinned & boneless chicken thighs
1 tsp cumin seed
1 tsp coriander seed
3 tbsp olive oil
2 Garlic cloves crushed
2 Red onions thinly sliced
100g (3.5 oz) Green lentils rinsed
400g (13 oz) Can Chopped Toms
2 tbsp Sundried tom paste
1 tbsp light Muscovado sugar
300 ml (½ pint) Chicken stock
Salt and Pepper
Method:
Season chicken with salt pepper.
Crush cumin + coriander seeds in mortar and pestle
Heat oil in frying pan on hob, gently fry chicken, stirring until beginning to colour.
Stir in garlic, onion and crushed spices.
Turn into casserole dish and add lentils.
Put tomatoes, tomato paste, sugar and stock into frying pan bring to boil pour over chicken lentils.
Mix ingredients together to combine, season with salt + pepper.
Cover dish with foil place on low rack.
Set oven at 200°C and cook for 40 mins until chicken is cooked through.
Serve with rice, couscous or flat bread and roasted tomato salad
Posted by Hummingbird on 9/12/10 at 14.22