Christmas Scones with clotted cream & jam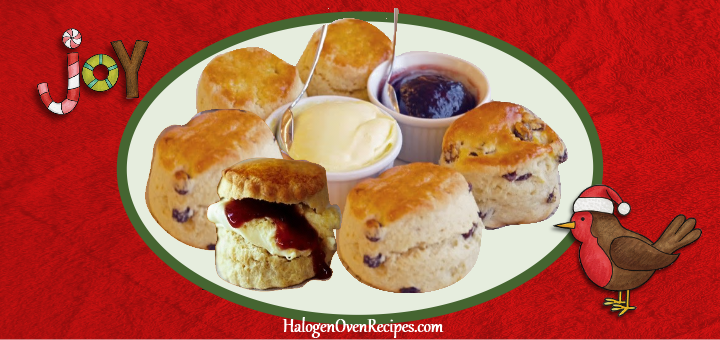 Christmas Scones with clotted cream and jam
Serve with strawberry or raspberry jam and some clotted cream or simply buttered.
Dust with a little icing sugar.
Ingredients:
225g self raising flour
Pinch of salt
½ tsp cinnamon powder
55g cold butter, diced
25g caster sugar
125 mls milk
50g raisins or sultanas
Method:
Tip the flour, salt, cinnamon or mixed spice and the butter into a chopping bowl / electric blender for a few seconds until the mixture resembles fine breadcrumbs.
Add the sugar and the milk until it forms a soft dough.
Turn on to a floured work surface, add the raisins and knead very lightly. Pat out to a round 1½ to 2 cm thick.
Use a 6 cm cutter to cut out rounds, lightly knead together the rest of the dough and cut out more scones to use it all up.
Place on the low rack and then position the low rack on top of the high rack and put into the Halogen Oven. (This will make a criss cross surface to put the scones on keeping them flat).
Turn the temperature to 200°C and the timer to 10 minutes.
Turn the temperature down to 175°C for a further 5 minutes if they are golden but still soft underneath.
When golden and risen remove the rack from the oven and leave to cool.
Posted on 03.11.10 23:04