Classic English Fruit Cake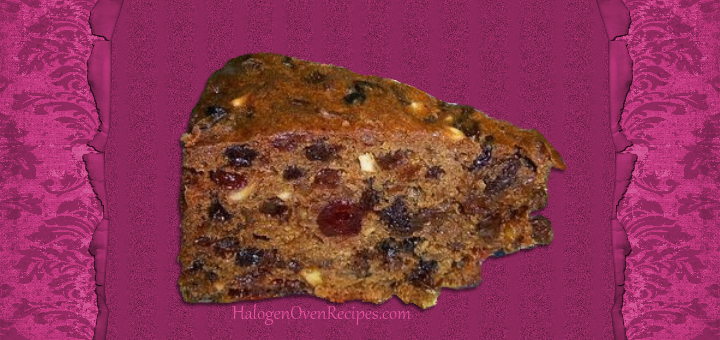 Classic English Fruit Cake
Serves 10
Ingredients:
170g unsalted butter
170g light brown sugar
4 medium sized eggs
100ml apple juice
170g sultanas
170g raisins
170g currants
250g plain flour
55g ground almonds
2 x 15ml tablespoons black treacle
1 x 5ml teaspoon mixed spice
½ x 5ml teaspoon grated nutmeg
½ x 5ml teaspoon freshly ground cinnamon
1 x 15ml table spoon bicarbonate of soda
55g toasted flaked almonds, chopped
255g mixed dried fruit, chopped
30g glacé cherries, halved
2 – 3 x 15ml tablespoons sherry
Method:
Pre-heat the Halogen Oven to 140ºC (290ºF).
Whisk the butter and sugar together until light and fluffy.
Beat the eggs & add to the butter, a little at a time, beating well between each addition
Stir in the treacle.
Sift the flour and dry ingredients together, add the fruit and stir into the butter mixture. Stir in the sherry and add just enough apple juice to moisten.
Turn the mixture into a deep, 25cm (9 inch) prepared cake tin (ideally a ring shaped tin) and bake in the Halogen Oven for 45 minutes – 1 hour. If cooked, a skewer will come out clean, when inserted into the middle of the cake
 Leave to cool in the tin for 15 minutes before lifting onto a wire rack to cool.
Posted on Mon 26 Oct 2009