French Bread Pizza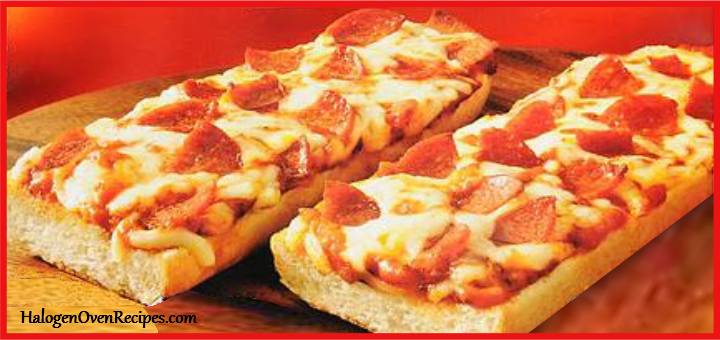 French Bread Pizza
Baguette Pizza
Serves 4
Ingredients:
1 French Stick. ( I use part baked Baguettes ) Which I cook first in the halogen oven.
3 tbsp tomato puree
Pinch of mixed dried herbs
6 tbsp tomato sauce
1 onion finely chopped
3 rashers bacon
10 medium mushrooms sliced
2 cups/ 8 oz/ 220g grated cheese
1 tbsp olive oil
Method:
Place the chopped onion and bacon on a tray and drizzle with oil.
Cook for 8 mins on high rack @ 240°c/ 460°f
While this is cooking, mix the tomato sauce, mixed herbs and tomato puree in a bowl.
Spread this over the sliced French bread. Top the bread with the cooked onions & bacon.
Sprinkle with grated cheese, mushrooms and season.
Grill on a high rack 240°c for 10 mins
Adjust temperature and timings to suit your own individual Halogen oven.
Other fillings suggested:
Salami, tuna, sweetcorn, cooked chicken, spinach,cooked minced beef, sausage, bacon, mozzarella, ham and pineapple.
Posted by Toots on 18/3/2011