Gluten Free Carrot Cake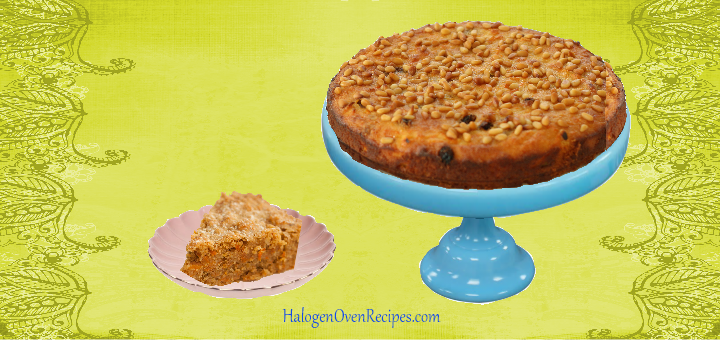 Gluten Free Carrot Cake
This is a Nigella cake but works in the Halogen fine.
Takes 30 mins to prepare and up 1 hr to cook
All measures are English
Ingredients:
3 tbsp pine nut
2 medium carrots grated (200-250g/ 7-9 oz)
60 ml/21/4 dark rum
75g/3 oz golden sultanas
150g/5 oz Caster sugar
125 ml/41/2 fl oz olive oil (regular NOT Extra virgin) plus extra for grease
1 tsp vanilla extract
3 free range eggs
250 g/9 oz Ground Almond
1/2 tsp nutmeg
1/2 lemon plus zest finely grated
Method:
You need 23 cm / 9 in springform cake tin and grease proof paper to line tin.
Toast pine nuts by browning in a dry frying pan. Set aside
Grate carrots coarsely (processor makes them very wet hand grate is better) lay on kitchen paper to dry, set aside.
Put raisin into small pan with rum, bring to the boil, turn heat down simmer for 3 mins.
Whisk olive oil and sugar until light creamy and airy mixed.
Whisk vanilla extract and eggs to butter mixture.
When well mixed fold ground almonds, nutmeg, grated carrots, sultanas (with any rum that clings to them) finally add lemon zest and juice.
Scrape mixture into prepared tin, flatten top with rubber spatula. The batter will be very shallow in the tin.
Sprinkle pine nuts over mixture put cake into oven and cook until skewer stuck into the centre comes out sticky but more or less clean.
Cooking time is approximately 30-40 mins @ 180°c.
Mine took an hour and need the top protected from becoming to brown (cover with foil) about half way through.
Posted by Hummingbird on 7/12/2010