Roast lamb, vegetables and yorkshire puds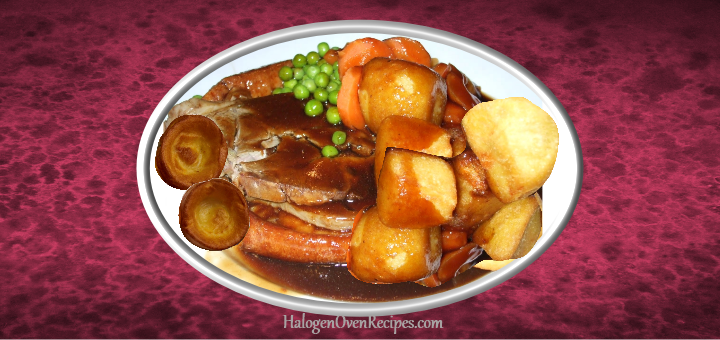 Roast lamb & veg, Roast potatoes & Aunt bessie's yorkshire puds ( Frozen batter mix)
I prepared a half a leg of lamb by rubbing in a paste consisting of rosemary, garlic and chilli flakes and letting it rest in the fridge for 4/5 hours.
I then prepared the veg, potatoes, parsnips, carrots and red onions by par boiling (minus the red onion) for 6 mins.
I separated the spuds and coated them in a mix of hot paprika, garlic salt, rosemary and I sprayed them all with olive oil.
I put the low rack in the Halogen and preheat the oven to 220°c. I put in the lamb and cooked for 10 mins.
Turn the lamb and add the veg along with the spuds and cook for a further 10 mins. Turn the lamb and veg.
Turn down the heat to 180°c and cook for a further hour (I like my roasts well cooked)
Take out the lamb and put in a warm oven to rest. Meanwhile turn the veg & then add the high rack and put in the Yorkshire puds.
Cook for 20 mins, turn over and cook for a further 10 mins.
Posted by Bluedolphin on 23/1/2011