Roast Leg of Lamb and Vegetables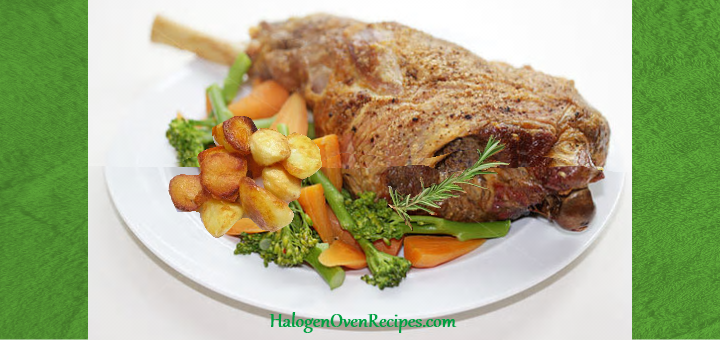 Roast Leg of Lamb and Vegetables
Bear in mind that my oven is only 7 ltr so I cant actually get that much in it.
Ingredients:
710g Leg of Lamb
Potato
Carrot
Calabrese
Rosemary for flavour
Garlic if desired
Method:
Cut the garlic into spikes and make some holes in the lamb (I prefer to do on both open ends). Insert the garlic into the holes.
Peel and prepare the potatoes. Part cook for half the time you would microwave them in the microwave. Coat in oil and leave to one side.
Prepare carrot and calabrese and put into small foil packets with 1 tbsp water (for steaming).
Place the lamb on the lower rack, wide end up. Sprinkle with rosemary.
Cook at 200°C for 20 minutes.
Turn lamb over and sprinkle again with rosemary.
Turn thermostat down to 180°C and cook a further 25 minutes.
Put potatoes on rack and put carrots in oven and cook a further 15 minutes.
Put calabrese in and cook a further 15 minutes.
This leaves the carrots perfectly cooked and calabrese slightly crunchy (the way I like it).
Potatoes perfectly roasted and the lamb done well, although very very slightly pink.
Made a good meal for 2 and a bit of lamb left over for another meal for 1.
Posted by wimplebum on 21/12/2009