White or Wholemeal Loaf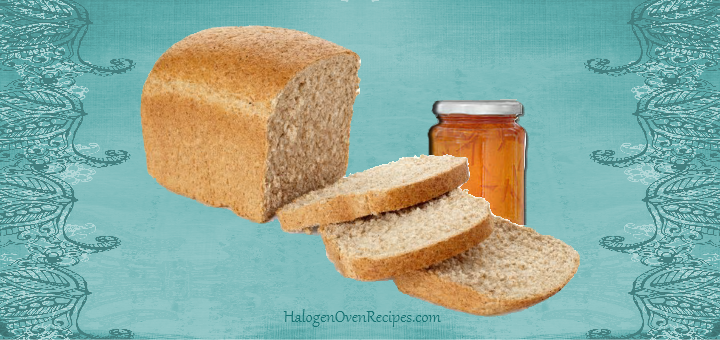 White or Wholemeal loaf of bread in Halogen Oven.
Ingredients:
1 1/4 lbs strong white bread flour
1 tsp salt
1 x 7g sachet of fast acting dried yeast
13 fl oz warm milk
1 tsp runny honey
Method:
In a bowl add the flour, salt and yeast, make a well in the middle, pour in the milk and the honey and mix well. Knead for 10 mins by hand on a floured work surface or 5 mins in a mixer with a dough hook.
Base line and grease a loaf tin, press the dough into the tin, cover with a damp tea towel or oiled cling film and leave in a warm place to rise until its doubled in size.
When risen slash the top a few times with a knife. Throw a few ice cubes or some cold water in the bottom of the oven to create some steam to help the bread rise.
Preheat the oven to 200 c, place your tin on the low rack and put on the extender ring.
Cook for 30 mins, then take out of the tin turn the loaf upside down and put it without the tin back onto the low rack bottom and cook for a further 10 mins. Leave it to cool.
You can also use half white and half wholemeal flour if you prefer.
Posted by Poppyseed on 17/2/2011