Apricot & Honey Stuffed Mackerel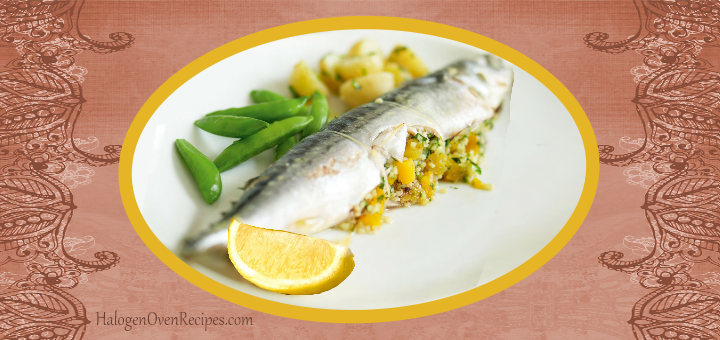 Mackerel stuffed with apricot and honey
Good one when mackerel fresh ( just caught lol! )
Prep time 15 mins
Cook time 25 mins
Need shallow dish
Serves 4
Ingredients:
50g (2oz) ready to eat apricots chopped
50g Bulgar wheat
2 tbsp Clear honey
1 crushed garlic clove
2 tbsp chopped tarragon
2 tsp mint
50g butter + extra for greasing
4 small whole mackerel gutted & cleaned (I don't do small Very Happy Very Happy )
1/4 pint white wine dry
2 tbsp double cream
salt & pepper
chopped parsley to garnish
string ( no hooks)
Method:
Mix apricots, bulgar wheat, honey, garic, tarragon, mint + salt and pepper. Fill fishes cavity with mixture tie two lengths of string round fish to hold in stuffing.
Place fish side by side in buttered shallow dish pour over wine, dot with butter. Cover with foil place on low rack in Halogen.
Set temperature to 200°c (392°f) cook fish for 20 -25 mins. Remove foil for last few mins of cooking.
Swirl cream into juices and serve sprinkled with parsley, accompanied by lemon wedges….
Posted by Hummingbird on 15/12/2010