Lemon and Herb Roast Chicken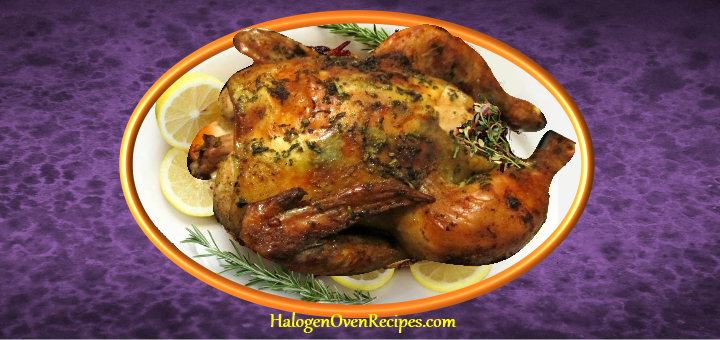 Lemon and Herb Roast Chicken
Remove chicken from fridge for 1/2 hour before cooking to allow it to come to room temperature.
Ingredients:
1.5 kg Chicken
1 large lemon (or 2 small ones), each cut into 8 pieces
Bunch of fresh mixed herbs (or 1 tblsp of dried mixed herbs)
6 cloves of garlic, peeled and lightly crushed
Butter or margarine
Salt and pepper
Method:
Place a shallow baking tin or oven dish under the bottom rack of the oven to catch the juices and make cleaning up easier. Line the dish with foil if desired.
Remove giblets, if any, and untie the legs. Rinse inside and out and pat dry with kitchen towels.
Season the cavity with salt and pepper, then fill it with the lemon, herbs and garlic – alternating for even flavour.
Rub the breast with the butter or margarine, try to push a little between the breast and the skin – gently so as not to tear the skin. Season with salt and pepper.
Place the chicken breast side down on the lower rack and season the underside with more salt and pepper.
Cook at 200°C for 40 minutes – I use my extender ring to raise the heat source. If you don't have one then cover the chicken with a bit of foil if it is browning too fast.
Turn the chicken over carefully and cook for another 20-30 minutes.
If you have a meat thermometer, test by inserting it into the thickest part of the thigh (not touching the bone). It should be 83°C to be properly cooked.
If you don't have a meat thermometer, insert a skewer in the same place. The juices need to run clear.
Rest for 15 minutes before carving. The chicken will be golden brown and the meat very moist.
If you cook a chicken without stuffing the cavity then the cooking time will be reduced.
Posted by Junie on 30.10.2010