Spinach and Egg Bake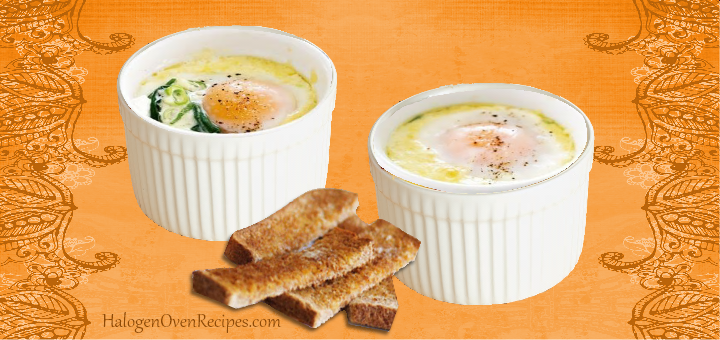 Spinach and Egg Bake
I have been playing around with adapting recipes from my old recipe books as I keep reading that cooking with the Halogen is so similar to a conventional oven, just cooks on a lower temperature and watch the timing. Yesterday I made these spinach and egg starters and we enjoyed them. Would also make a great snack with toast soldiers to dunk.
Ingredients:
1 greased ramekin per person.
Bag of frozen spinach, thawed and drained well
1 egg per person
White sauce.
Grated cheese
Seasoning.
Method:
Chop the spinach, season with salt, pepper and any other seasonings you fancy and put it in the bottom of each ramekin.
Make a well in the middle of the spinach with the back of a teaspoon, crack an egg and drop it onto the spinach.
Either make white sauce with flour, butter and milk or use a packet sauce mix.
Pour the sauce in to just cover the egg and spinach.
Sprinkle with grated cheese.
Cook on low rack, 160°C until cheese melts and eggs are cooked but still soft.
I forgot to mention to thaw and drain the spinach very well. In fact, I give it a gentle squeeze with my hands.
Another tip, sprinkle the cheese thickly over the spinach but sparingly on the egg so you can see when the egg is cooked.
Posted by Maggie54 on 25/6/2011