Tandoori Chicken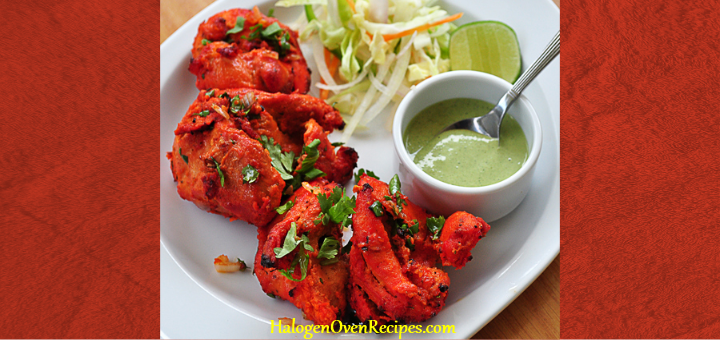 Tandoori Chicken
I cooked this in my Halogen yesterday instead of my grill or BBQ and it turned out very well.
Marinade for up to 4 persons.
Ingredients:
1 chicken breast per person.
150 g carton of Greek Yoghurt
2 teaspoons grated ginger
4 cloves garlic, crushed
Pinch of Cayenne pepper
1 teaspoon Paprika
1 teaspoon Cumin powder
1 teaspoon Garam Masala
1 teaspoon salt
1 tablespoon wine vinegar
2 tablespoons of vegetable or cooking oil
Pinch of powdered food colouring, (optional, just gives more colour to dish)
Method:
Put all ingredients in a bowl, mix well and spoon into a plastic freezer bag.
Cut any bits of sinew off the chicken and make about 4 slits, widthways, along the top of each piece of chicken, taking care not to cut through to the other side.
Put the chicken breasts into the freezer bag and tie a knot in it, leaving just a bit of room in the bag.
Give it all a good pummel to get the marinade into the chicken and leave overnight in the fridge.
Set the Halogen Oven to its hottest setting.
Put a piece of micromesh or other heatproof baking sheet onto the high rack, (this just makes the chicken pieces easier to turn over).
Take the chicken out of the marinade and place on the high rack. Cook until well browned and turn over once.
Mine took 10 minutes on the first side and 6 minutes on the other.
Serve with rice and garnishes of choice.
Our favourites:
A couple of tomatoes, roughly chopped in the food processor and mixed with chopped parsley, oil and vinegar, salt and pepper.
A piece of cucumber, chopped. I prefer to chop this as finely as possible by hand as the processor turns it to mush. Stir the cucumber into a carton of Greek yoghurt, season with salt and pepper and refrigerate until ready to eat.
Posted by Maggie54 on 3/8/2011